The Issue
Simply Cups came into existence to address the UK's fastest growing waste stream: the estimated 2.5 billion paper drinking cups disposed of each year. These cups contain an inner polyethylene layer, needed to keep the liquid in the cup and stop the rest of the material getting soggy, which, in the past, paper processing plants were unable to separate and so, consequently, the only solution was to send them to landfill or waste to energy facilities.
Although there have been previous attempts to recycle paper cups, these ultimately failed due to the lack of a logistics service that could economically collect the cups and the absence of facilities to process and recycle the material once it had been collected.
The Solution
The whole recycling landscape changed in 2013 when two new specialist plants were established by James Cropper PLC and ACE UK Ltd. For the first time, these reprocessing facilities could now accept bulk quantities of cups and separate the plastic film from the paper, thereby allowing material recovery and recycling into new paper products.
With the already established logistics service in place, operated by Simply Cups' co-partner Simply Waste Solutions, the scheme was ready to go and launched in August 2014.
Simply Cups works directly with customers to help them efficiently segregate the materials and then by-passes the traditional 'mixed recycling route' by collecting, bulking and then sending the materials direct to the reprocessors. What the customer gets is a completely transparent service, together with a documented audit trail and the re-assurance that their cups are truly being recycled.
Importantly for customers, this service currently costs no more than that already paid to their existing waste management company but with the prospect that, as the scheme grows and more material is reprocessed, there will be opportunities for further cost savings.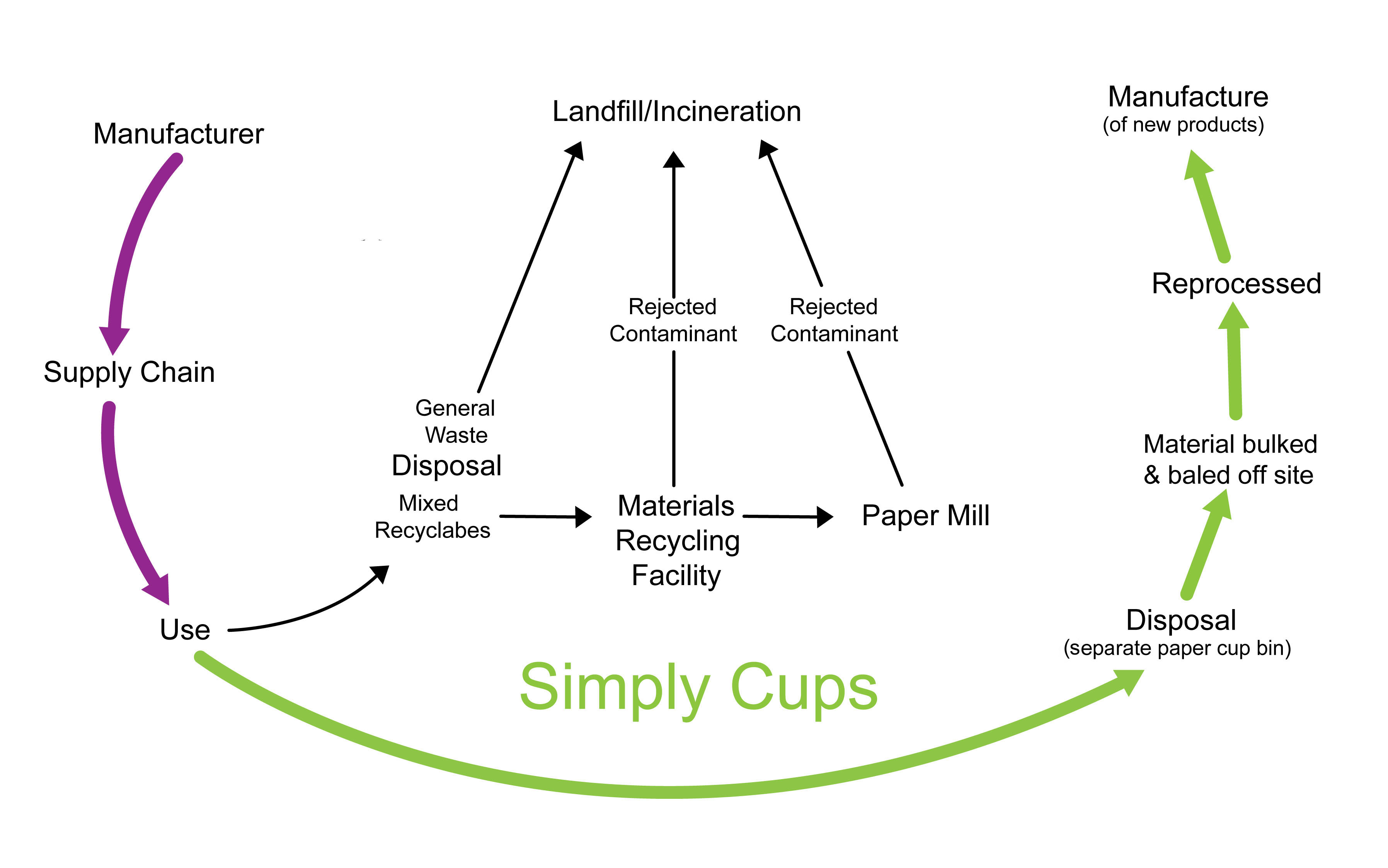 Expansion
It is quite clear that many other materials are often disposed of as 'mixed recyclables'. Increasingly, though, customers want to know what is happening to these materials in order to validate the recycling process so they can meet their own CSR objectives.
We also know that customers are using many different materials, usually at the same site. For example, this could include paper cups for hot drinks, plastic cups for water, plastic salad containers and polystyrene food trays.
This means that there are further opportunities to make the scheme more cost effective by also collecting these additional materials. In March 2016, therefore, Simply Cups also began to accept cups made from Polypropylene (PP), Polystyrene (PS) and PET.