To take advantage of the Simply Cups collection service, you first need to become a member
---
Coverage
We now have geographic coverage across most of England as well as expansion into Scotland. Nevertheless, we are continually looking to fill any gaps in the service and so we have brought on board a number of collection partners, who all share our philosophy and high expectations for customer service.
We are also working hard to expand the service to cover any gaps in our service coverage, as demand grows.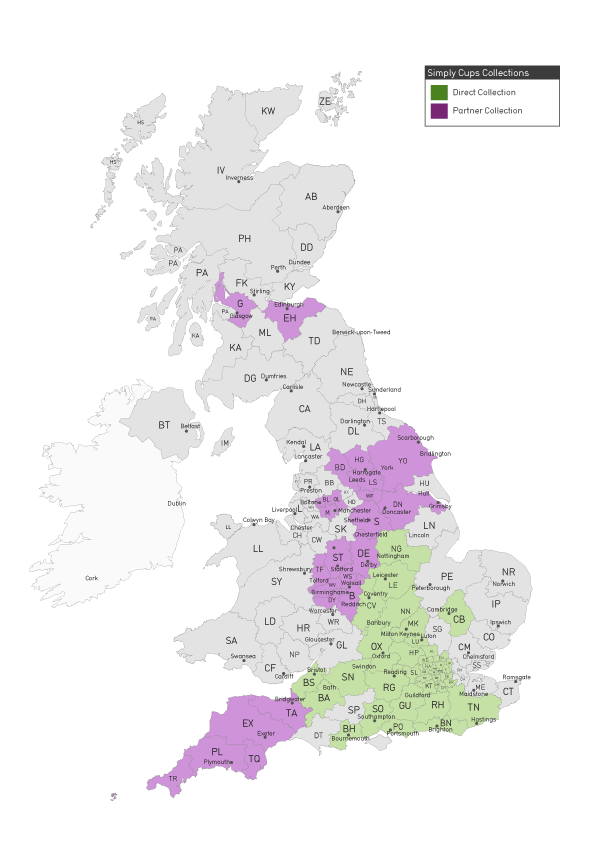 ---
What We Collect
Simply Cups collects and recycles all types of beverage cups, using the most appropriate reprocessing partner in order to return the used material back into new functional products.
---
Paper Cups
Material Properties
Paper cups are typically manufactured using virgin paper lined with polyethylene (PE) to ensure that they are waterproof. Paper cups used for cold beverage service also have an additional polyethylene lining on the outer to prevent condensation soaking into the paper and rendering it unstable.
Recyclability
Due to the plastic lining, traditional paper mills will not accept used paper cups since they are considered a contaminant. There is, however, a small number of specialist fibre reprocessing facilities, most notably ACE, DS Smith and James Cropper, that can recycle paper cups, into low-grade papers, such as packaging.
Simply Cups has also been pioneering alternative options to recover resource from used paper cups which have far greater recycling possibilities. One of these is a partnership with product designers and manufacturers, ashortwalk, and specialist recycler Nextek. Together, we now have the ability to compound used paper cups into a new polymer, called NextCupCycle, without the need to separate the paper from the plastic lining, that significantly widens the opportunities to manufacture new functional products, such as the rCUP, from this material.
Polypropylene Cups (PP)
Material Properties
Polypropylene (PP) is widely used to manufacture disposable food and beverage packaging, due to its light weight, in comparison to other polymers. PP is also well suited for both hot and cold beverage service, and thus a favoured material for the vending industry.
Recyclability
Whilst there is a global market for post-consumer PP, the value of material is subject to global commodity prices. Simply Cups collect PP cups co-mingled with PS cups to simplify the process for the end user.
At the reprocessing facility the co-mingled cups are chopped into small flakes that are then washed, separated into PS and PP and dried. The PP flake is sent straight to bag for onward sale to compounding for the manufacture of new products.
Simply Cups is now also investigating the potential of food-grade PP which will enable a truly closed-loop solution of cup to cup recycling.
---
Polystyrene Cups (PS)
Material Properties
Polystyrene (PS) is a cost-effective material that can be manipulated for a wide variety of purposes, including disposable food and beverage packaging. The rigidity of PS has also been a favoured material of the vending industry.
Recyclabilty
PS is rarely extracted when it is recovered co-mingled with other recyclable material. The used products often shatter or snap into smaller fragments which become too small and light for sorting. Whilst there are local markets for post-consumer PS, the volumes recovered in the market place tend to be lower than for other polymers.
Simply Cups collect PS cups co-mingled with PP cups to simplify the process for the end user and then follows the same process as detailed above for PP cups.
PET Cups
Material Properties
Polyethylene Teraphalate (PET) has excellent barrier properties against oxygen and carbon dioxide, as well as good chemical and UV resistance. Generally providing greater clarity and strength than other polymers, PET cups are considered a premium product predominantly used in 'on the go' environments.
PET can also be recycled (rPET) and has the advantage of being the only polymer (alongside rHDPE) for which a commercially viable solution exists to return back to food grade quality packaging.
Recyclability
PET bottles can be recycled back into food grade quality material at a number of specialist facilities in the UK, however, there are a number of challenges to achieve this for non-bottled PET.
Given the evolution of facilities capable of processing non-bottled PET, PET cups will be sorted and then chopped into small flakes. A hot wash is then used to clean the flake of label residue, glues and ink. The PET flakes are then returned to a food grade product through a process of decontamination. They are then laser sorted, to remove any remaining contaminants, prior to being bagged for onward sale.
rPET can also be used in the manufacture of other functional new products such as clothing and accessories.